About Milton Vineyard
Located at 42° South, perfect for cool climate wines stars Pinot Noir and Chardonnay.
Our History
We have farmed at Milton since 1980 when the property was first purchased by our family. It was in need of new infrastructure and redevelopment and gradually came to support 5500 Merino sheep for our prize-winning wool. We also grew a variety of other crops including carrots, onions, brassicas for seed, poppies and seed potatoes as well as grain and fodder crops for the sheep. We grew tired of selling these crops and watching them be shipped off farm with no further input from us. We decided to plant the grapes as a more sustainable crop with its basic structure still with us in the ground and a lot less impact on the soil. So we set in and planted 2.5 HA in the deep red soils of our Cranbrook-Syde property just across the river from our current site. This site proved problematic for frost and vigour, so we started again on the dry, rocky free draining soils on the old sheep paddock just by the cellar door. The grapes were sold to Hardy's for a few years whilst we learnt a lot about viticulture and then we launched our label in 2005.
As they say the rest is history as we developed our brand and built the Cellar Door on the hill overlooking the lake and the vineyard.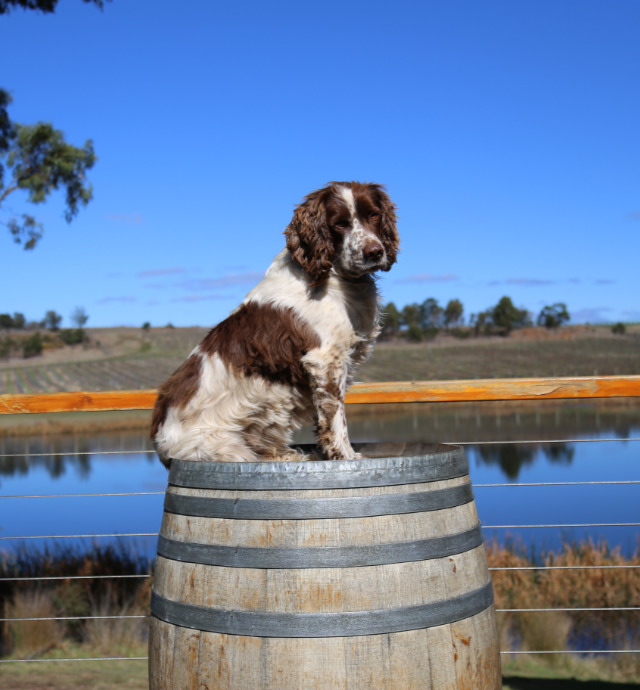 From these beginnings, we have had great success with our unique micro-climate that suits the ancient grape Pinot Noir and lately, Syrah has proven very successful. Also, there are plantings of the aromatics, Pinot Gris, Riesling, and Gewurztraminer as well as Chardonnay.
And if this is not enough Michael has now planted a couple of hectares of Tempranillo. If you cannot holiday in Spain you can try and grow their famous wine variety. This planting will not be in bottle for a few years yet. All in all, we have 26 Hectares of vines in the ground and further plantings of Chardonnay planned.
We still have 3500 sheep and these are looked after by our son and daughter-in-law Henry and Josie Dunbabin as we no longer have the time to tend them. The cellar door is open 7 days a week keeps Kerry busy and Michael runs the vineyard. Our focus is on producing small quantities of handmade wine. Close attention is paid to every detail in the vineyard and the wines represent this exacting work. Milton Vineyard is excited to announce our new winery is almost completed in time for the 2023 vintage.

We have welcomed Jacqui Anderson to the Milton team as our winemaker. Her experience and knowledge are greatly welcomed, so watch this space!
Come and visit us in the Cellar Door and experience our East Coast hospitality and delicious wines. We look forward to meeting you.